Sobriety and abstinence are extremely difficult to attain for people who drink and use drugs to cope. Alcoholism and substance use disorders describe someone unaware that they are drinking and or drugging to self-medicate. Most alcoholics and addicts only understand that they need the drink or the drug to change how they feel, but they don't often know exactly why.
Why Sobriety is A Huge Accomplishment
Getting sober is a highly individual process that requires the person to unveil what is wrong in their mind and heart; it takes time and effort and requires a lot of professional help to be achieved. Today, the most effective treatment programs no longer isolate the effects of substances but take a deep look at their emotional and mental health to give them what they need to attain lasting sobriety and recovery from all substances.
Evidence-based treatment methods combine in-depth therapy, medication-assisted treatments, and behavioral therapy to help people identify and heal what is causing them to self-medicate.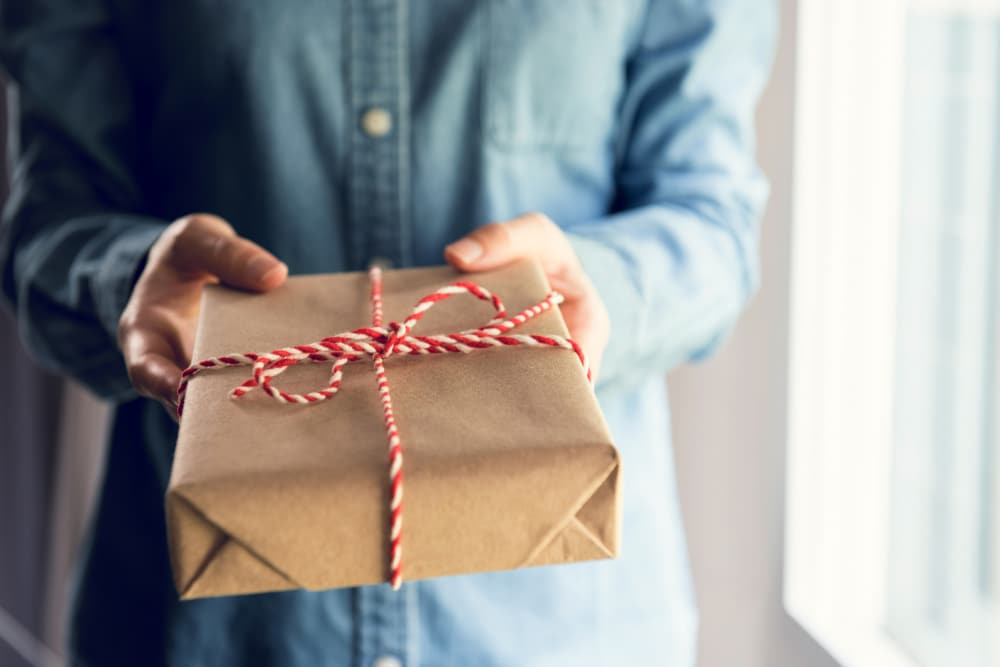 Why Are Sober Dates Important To Celebrate?
The date someone achieves absolute sobriety from alcohol and drugs is monumental. It is the day they surrender because they cannot drink or take drugs and stop. A sober date represents a new life and an ongoing commitment to change for the better. Celebrating these dates begins with 24 hours, then 30 days, three months, six months, one year, and every year after. Each date of time passed is significant, and it is vital to remember them to support your loved one to stay sober.
Recovery Gifts for 24 hours and 30 days
The first 24 hours are the hardest. Many alcoholics will be in detox, as will drug abusers. An ideal gift for them is encouragement and praise. A physical presence could be a journal with a handwritten sentiment that supports their sobriety efforts. The 30-day marker is an even more substantial accomplishment, and the best gift for that day needs to be a celebration. It is generous and useful to take them to a special dinner, give them a gym membership, hair salon visit, or buy them a book related to their recovery practice. Helping your loved ones to care for themselves physically and emotionally is perfect at these stages in their recovery.
Among people aged 12 or older in 2020, 17.7 million people were heavy alcohol users in the past month. (SAMHSA)
Special Gifts and Ways to Recognize 3 Months and 6 Months
Once a person has achieved three months of sobriety, they are dedicated to sobriety. A well-planned gift is appropriate and will be most thoughtful if asked how they commemorate their three months. They felt acknowledged and encouraged for their work to attain months of recovery. This is still a considerable accomplishment for six months, so someone will likely feel more open about their sobriety. A practical gift that supports them will be best. Emotionally supportive gifts include:
Rides to Meetings if need be
Funding for Counseling
Books that Address Mental Health and Recovery
Providing Financial Help for basic needs if needed
How To Recognize Multiple Years of Sobriety
Once a person has achieved one year of sobriety from alcohol and or drugs, it is a landmark achievement. They have overcome a year of deep emotional triggers to drink or use, and they have likely expressed that it is getting easier or 'better.' The one-year mark is the time to go all out and have a party for them with their friends and family. This can be done at a restaurant or park or home environment. All attendees will bring cards and gifts, and a cake with a one-year candle is a must. Presents can be sentimental, such as a keychain with the number one or a pretty box or another item with a one-year sober date engraving.
Why Does Sobriety Require Treatment?
The facts are that only 2% of the people who try to get sober make it to five years. On the other hand, it is not uncommon for most successful recovering alcoholics and addicts to attend treatment many times over before it sticks. The National Institute On Drug Abuse explains why professional treatment is necessary.
Treatment enables people to counteract addiction's powerful disruptive effects on the brain and behavior and to regain control of their lives. Successful addiction treatment typically requires continual evaluation and modification as appropriate. For the addicted individual, lapses to drug abuse do not indicate failure—rather, they signify that treatment needs to be reinstated or adjusted, or that alternate treatment is needed. (NIDA)
Aspen Behavioral Health Provides Evidence-based Treatments That Promote Lasting Sobriety
The necessity for anyone who struggles with alcohol or drug abuse is to find a professional, evidence-based West Palm Beach drug treatment program. Without in-depth therapy, ongoing counseling, relapse prevention, and remaining in a supportive environment for a set amount of time, it is not likely to help the person. We recommend long-term treatment. To uncover the emotional and mental damage that all addicts and alcoholics carry takes time. Therefore, we provide counseling on the first day of treatment and support all our clients long after leaving our programs.
Don't live another day drunk or high; there is a way to enjoy life clean and sober! We provide the therapy to help you get there! Call now to begin.